Last week
was really difficult; I was sick on top of everything else, so I did ZERO thrifting. It's time to get back to happier things, though, so today I'm sharing some finds from the last few weeks. They all have kind of a glammy, Hollywood Regency vibe, which I love.
First, this cool black ceramic horse head bookend:
There's only one of them, but I was okay with that. Sometimes, I think it's easier to work a single bookend into a bookshelf, and it ends up looking less matchy-matchy and more like an intentional piece of sculpture. Here he is with some books:
I love the spot of green glaze on his mane!
Next, I found this cool set of three cylyndrical brass candle holders:
They need a bit of work with the Brasso to remove some tarnished spots, but they're so 70s glam, don't you think?
I have a thing lately for flatware with bamboo-shaped handles. I was excited to find this set of six dinner knives in a thrift store bin. . .
. . . but a little sad that there were no matching forks or spoons! Oh well...they're still fabulous and at the prices my thrift store charges for flatware, I seriously couldn't pass them up.
Speaking of bamboo, I fell in love with this nifty little Chinoiserie painting with a gilded faux bamboo frame:
It's a relatively small piece - about 10 x 14 - so it would be so easy to fit into almost any setting.
I'm also pretty enamored with this set of Federal Glass dishes in the "Golden Glory" pattern, produced in the late 50s and early to mid 60s. It's made from a translucent milk glass that's about the weight of Jadeite, and it's embossed with the prettiest pattern of golden bamboo shoots and leaves. So modern!
This set includes four dinner plates, four dessert bowls, four cups, and four saucers. I think I paid about fifty cents per piece! They're in just about mint condition, without so much as a utensil mark. I bet their original owner set them aside for "special occasions" and never actually ate from them.
Last but not least, I wanted to throw in this Homer Laughlin serving platter:
This piece is the Wheat Americana pattern in green, and it was produced in the early 1950s. I can't even explain what a huge graphic "punch" this large pattern and vibrant green color packs in person!
Thanks for checking out my finds for this week, and happy thrifting! I'm linking up here:
Thrift Share Monday at Apron Thrift Girl
Flea Market Finds at Her Library Adventures
Nifty Thrift Tuesday at Coastal Charm
Twice Owned Tuesday at House of Grace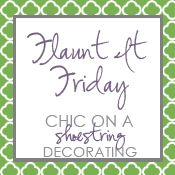 --------------------------------------------------------------------------------