I was excited to find four dinner plates in the Royal China "Star Glow" pattern from the early 60s. I love the starburst design--there is nothing more retro than a good starburst!--and the simple, elegant cream and gold colors.
To go with them, I found five cool vintage tumblers with gold striped rims and a textured speckly frost around the bases, all in pristine condition:
What a pretty table setting these plates and glasses would make, especially for the holidays!
Surely you spotted the cute brass horse in the photos above; here he is up close:
Speaking of figurines, I was also excited to find this ivory colored owl made by Haeger Pottery:
In this shot, you can see a few more of my ivory and gold themed finds: a small, perfect lotus bowl; a pretty solid brass tobacco leaf dish from the 1960s; and a cool milk glass apothecary jar from Belgium, in perfect condition and sporting its original, bulbous lid. I was excited by all of these finds!
My favorite score by far, though, was this fabulous gold toned wooden peacock statue:
I hope everyone else had a successful week with lots of great finds! I keep expecting my zeal for thrifting/flea marketing/estate saling to wane as the weather turns away from summer towards fall, but it hasn't happened so far!
Linking up with the following fun blogs to see what others have been up to: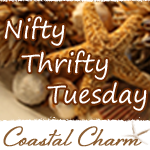 http://blog.capscreations.com/
(THANKS to Cap Creations for featuring my punch bowl set from last Monday!)